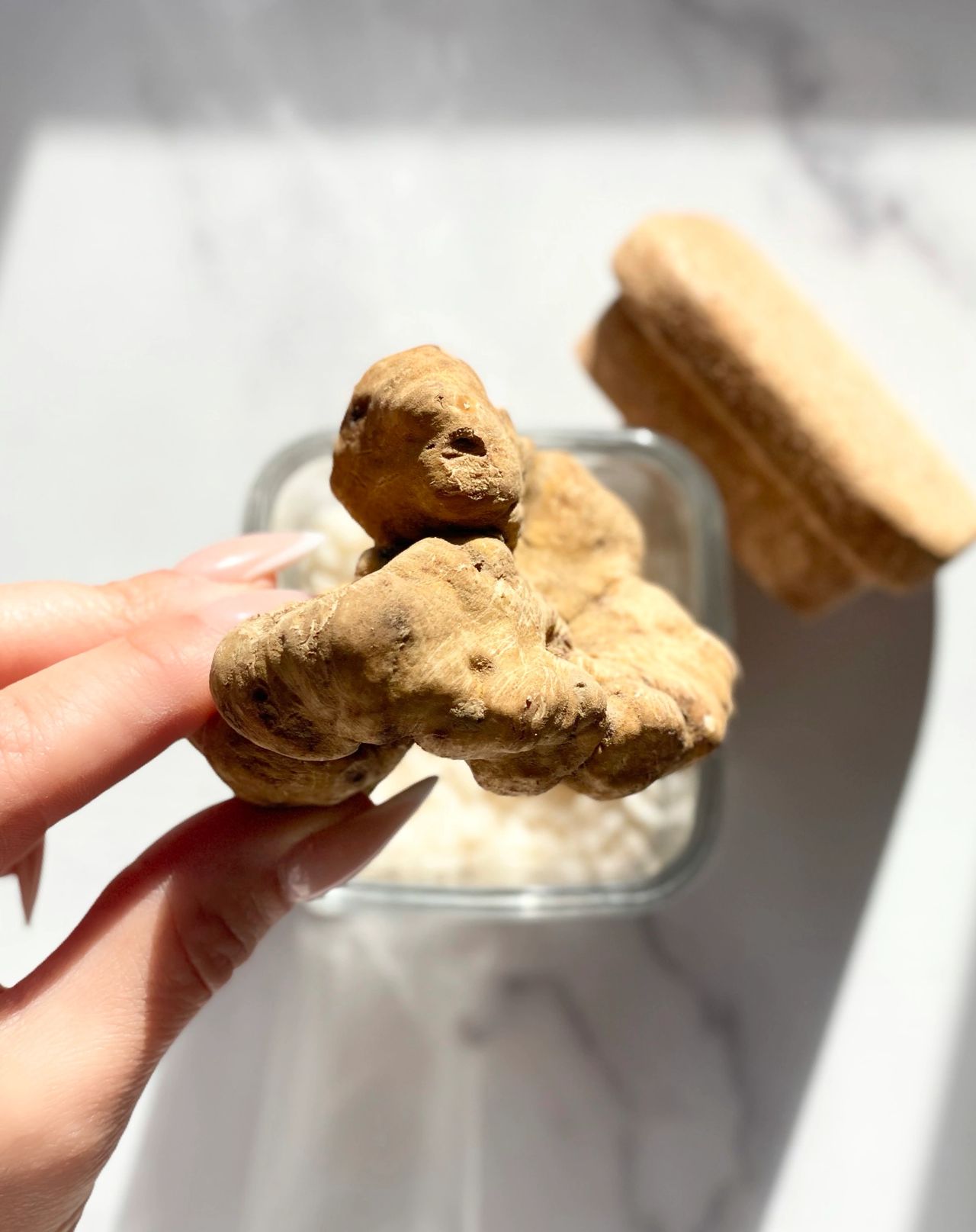 The White Truffle, also known as the White Alba Truffle is a magical ingredient in autumn/winter dishes. It boasts a flavor that is both distinct and pungent. It's one of the most highly sought after ingredients by chefs around the world, that can turn any dish into a decadent, delicious course that will impress even the most celebrated foodies. When I created these recipes I wanted to make the White Truffle the star of the dish. Which means I had to keep it simple; make it undeniable why this ingredient deserves the top spot on the list of ingredients.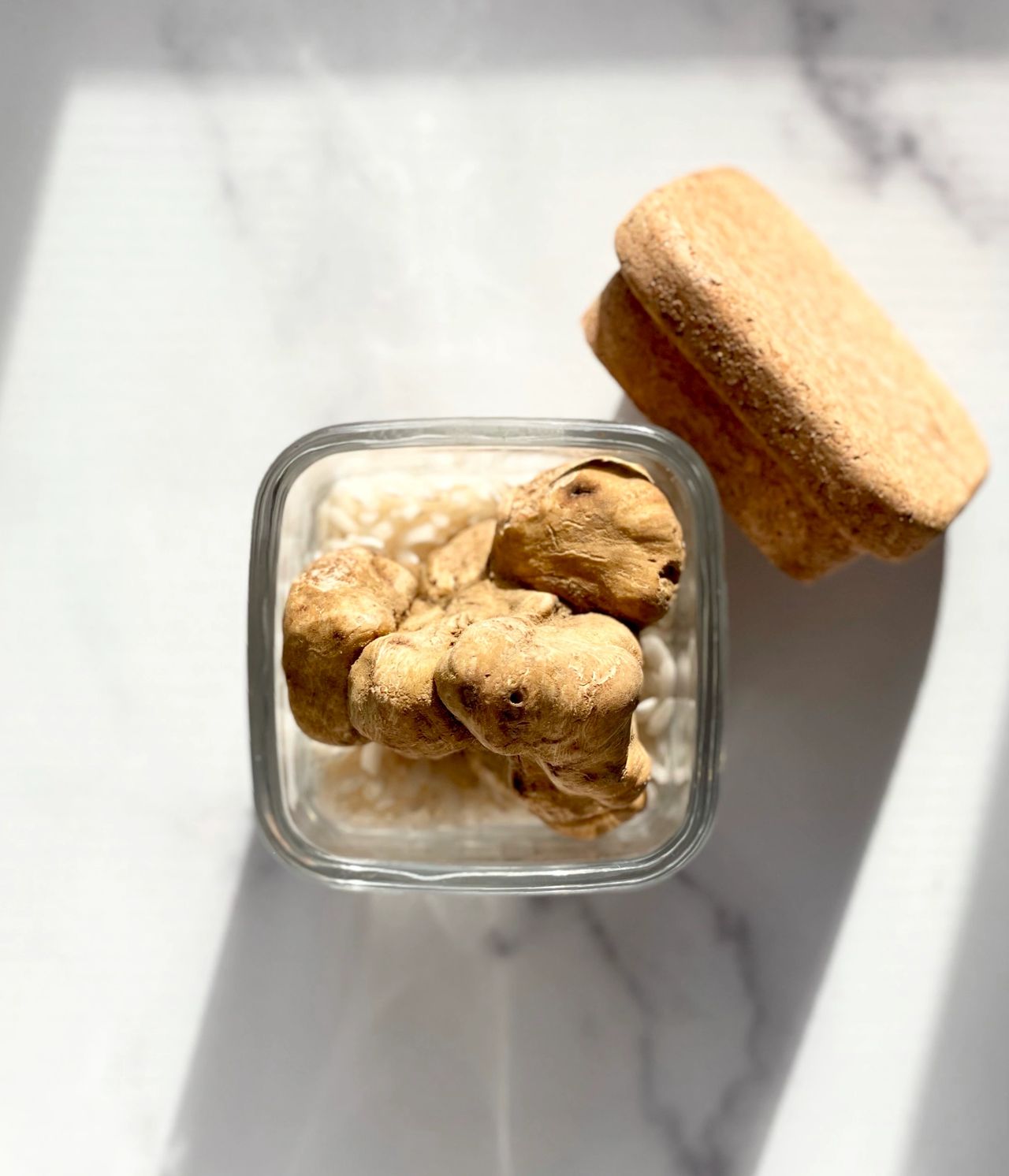 A little background in my star ingredient: Harvested in Italy the White Truffle has a sweet and unique taste and the aroma can perfume a room in moments. White Truffles can commonly be found growing within the root structure of trees such as the poplar, beech trees, oak, and hazel, just below the surface. Their color is usually brownish with white marbling to pale cream or off white. Italian white truffles are a delicate and rare type of edible mushroom mostly grown in Italy. The season runs from September to December. Fresh truffles are a very seasonal and rare product, hard to acquire and expensive. Furthermore, they are held in high esteem by gourmet chefs around the world.
Here are several ways to use this beautiful ingredient and wow anyone in your invite list. Take time, respect the process, create a moment that will be memorable for all involved.
Buon appetito!!!!
BURRATA TARTUFATA
This dish is incredibly simple to create and sure to please! It's also a great addition to a dinner party spread, especially one featuring truffles.
Ingredients
• White Alba Truffle
• Burrata
• EVOO
• Salt
• Toasted Italian Bread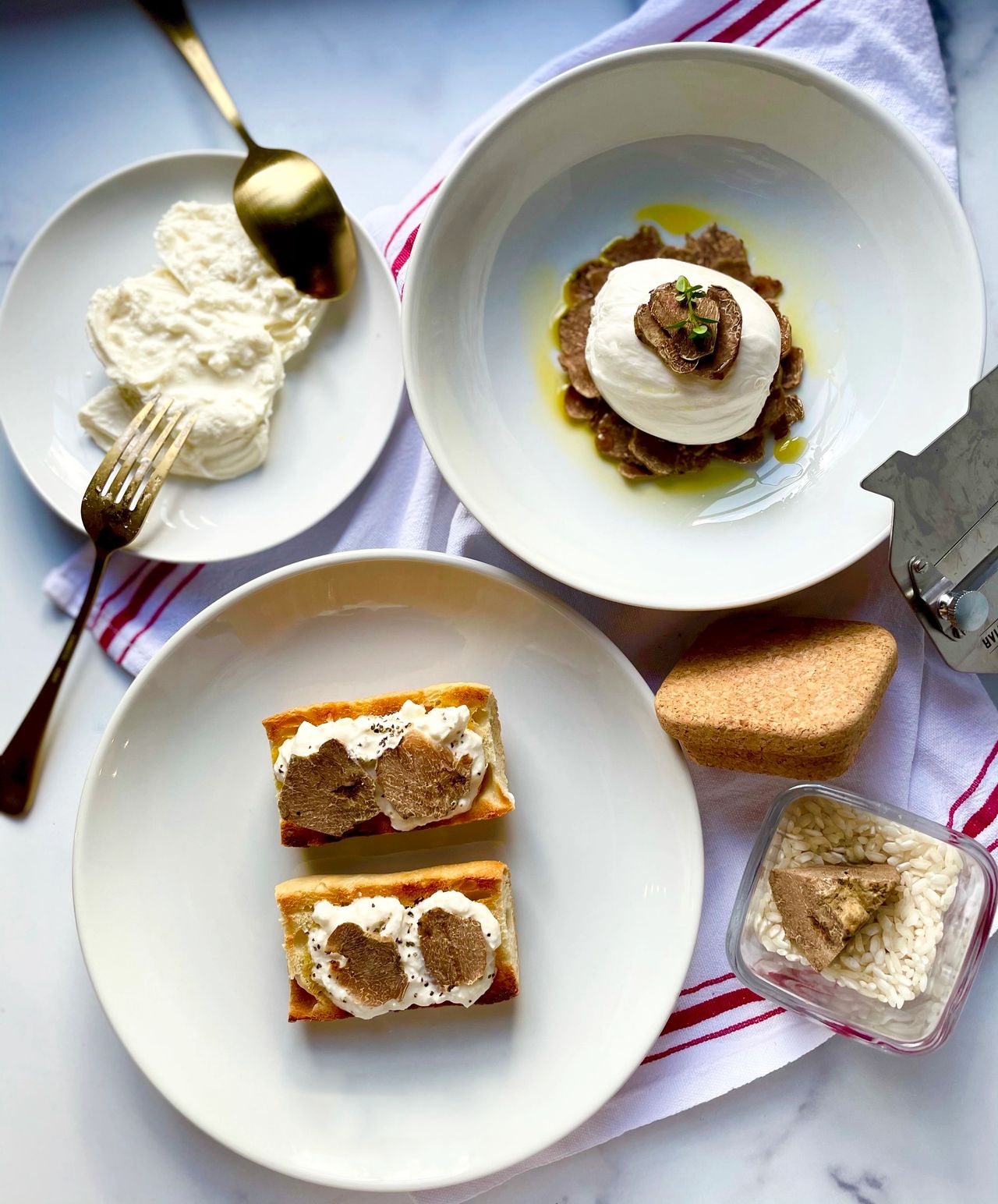 Instructions
Step 1 – Shave enough truffle to make a circular pattern in the center of your plate.
Step 2 – Drizzle some EVOO on your plate. Arrange truffle in middle of plate.
Step 3 – Place your burrata on top of the truffles. Drizzle a little EVOO on the burrata. Sprinkle with salt. Then add a few more truffle shavings to top.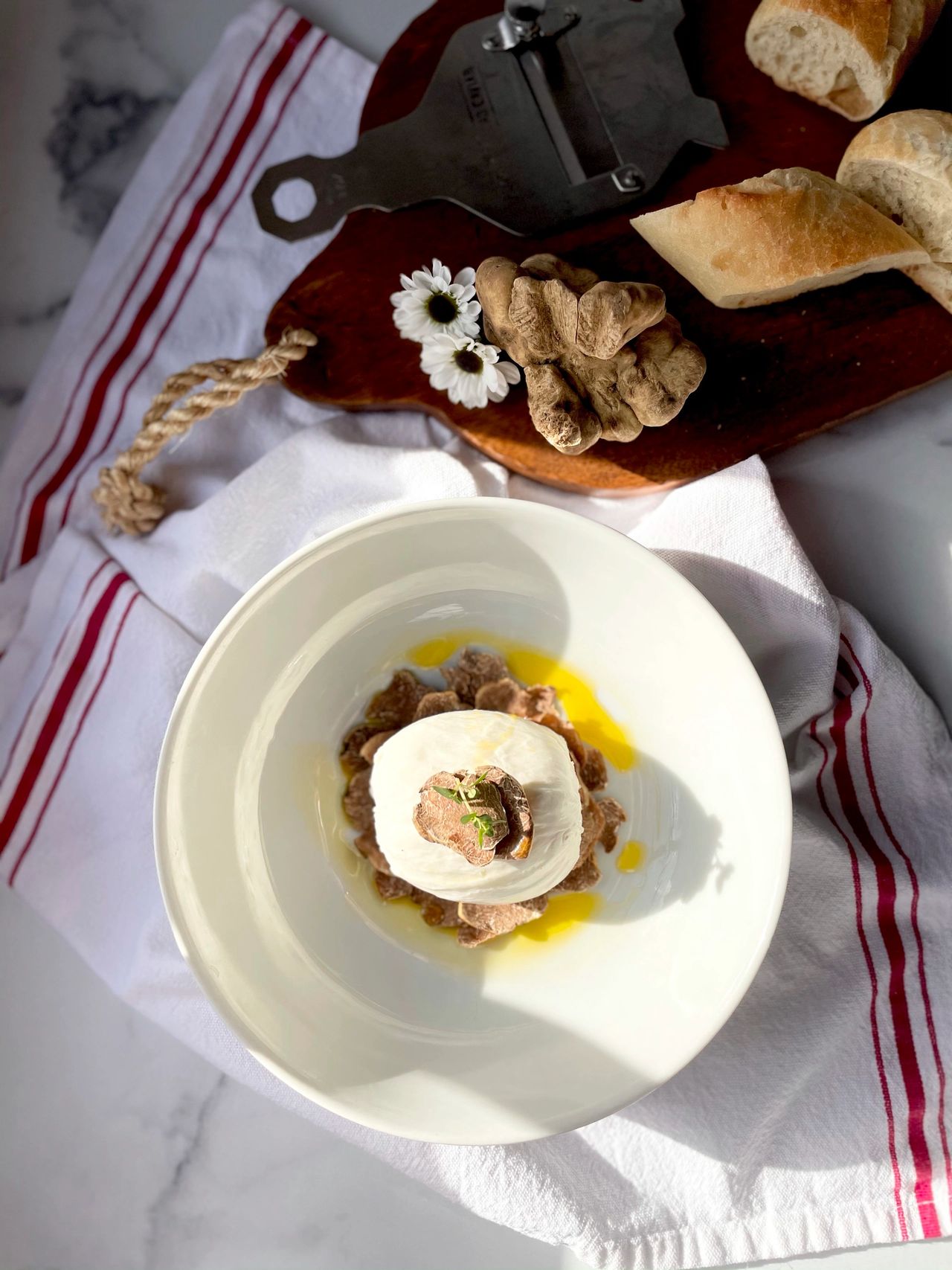 You can serve the burrata at this point with sides of toasted Italian bread. If you prefer making your guests prepared slices of bread. Here's what to do. . .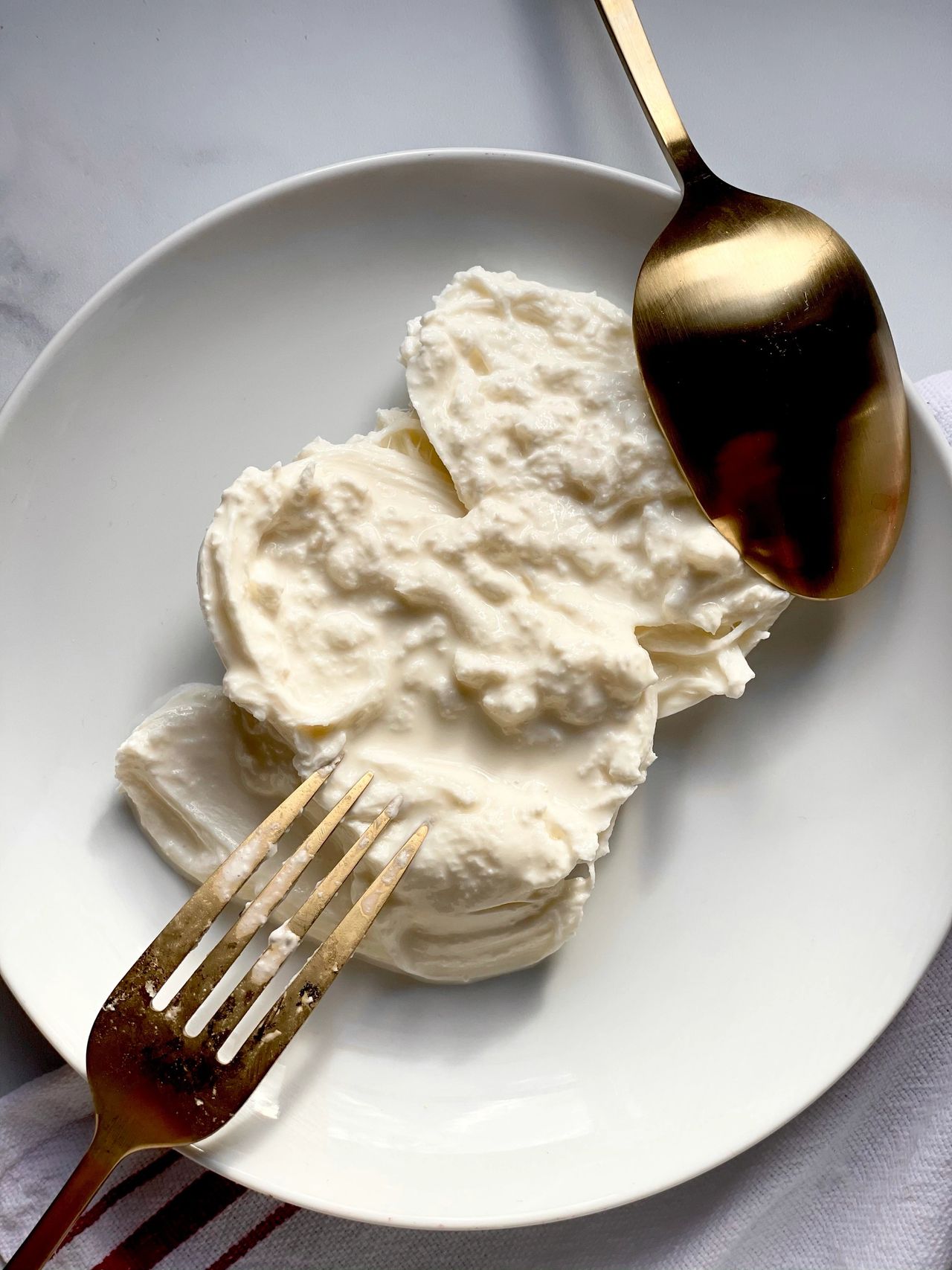 Step 4 – Drizzle a tiny amount of  EVOO on each slice of bread. Cut open the burrata and with a fork remove some of the inside and spread over bread. Drizzle a little more EVOO on top.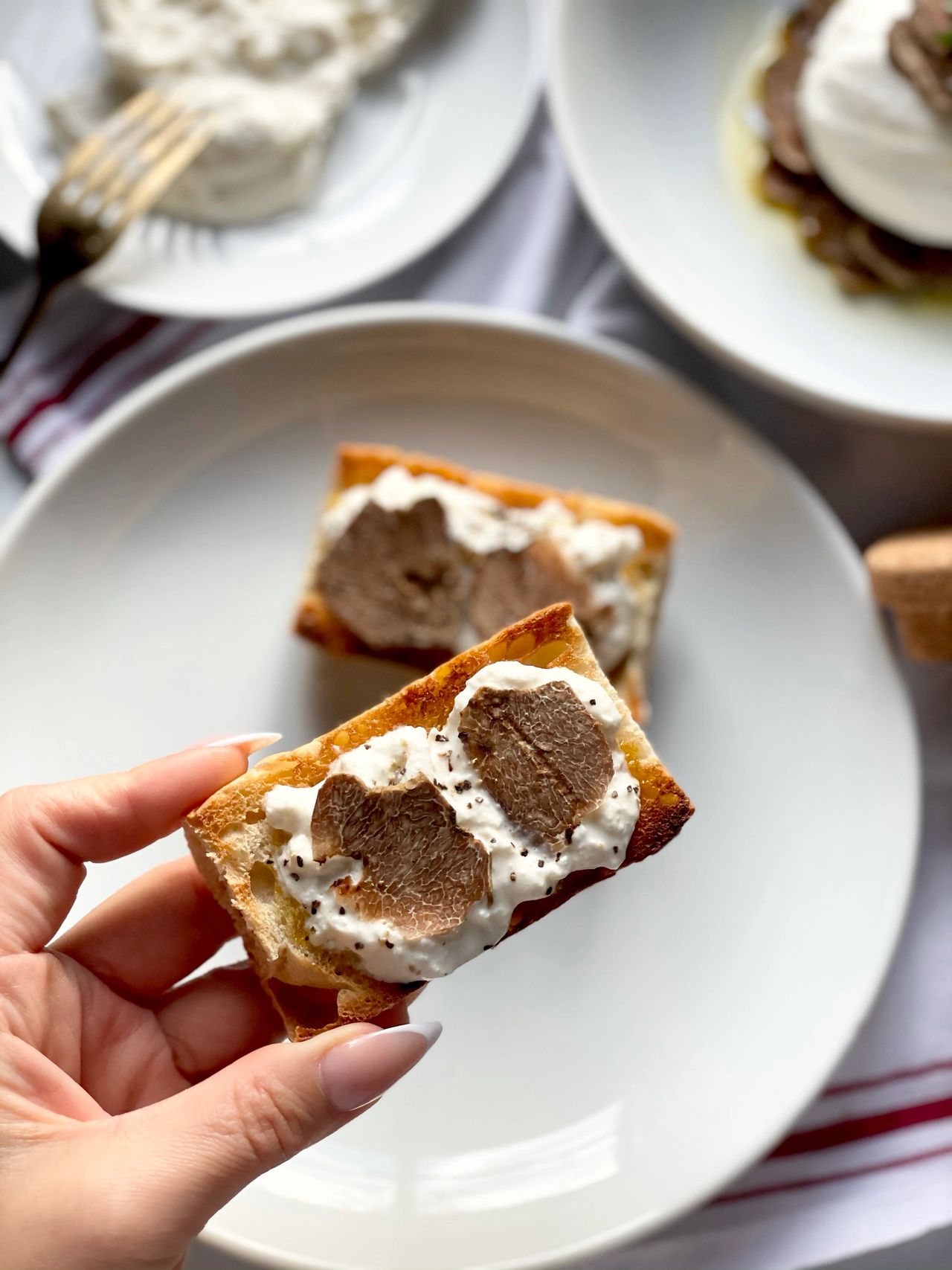 Step 5 – Season pieces with salt, some pepper (if desired) and top with shaved truffle.
TRUFFLE PASTA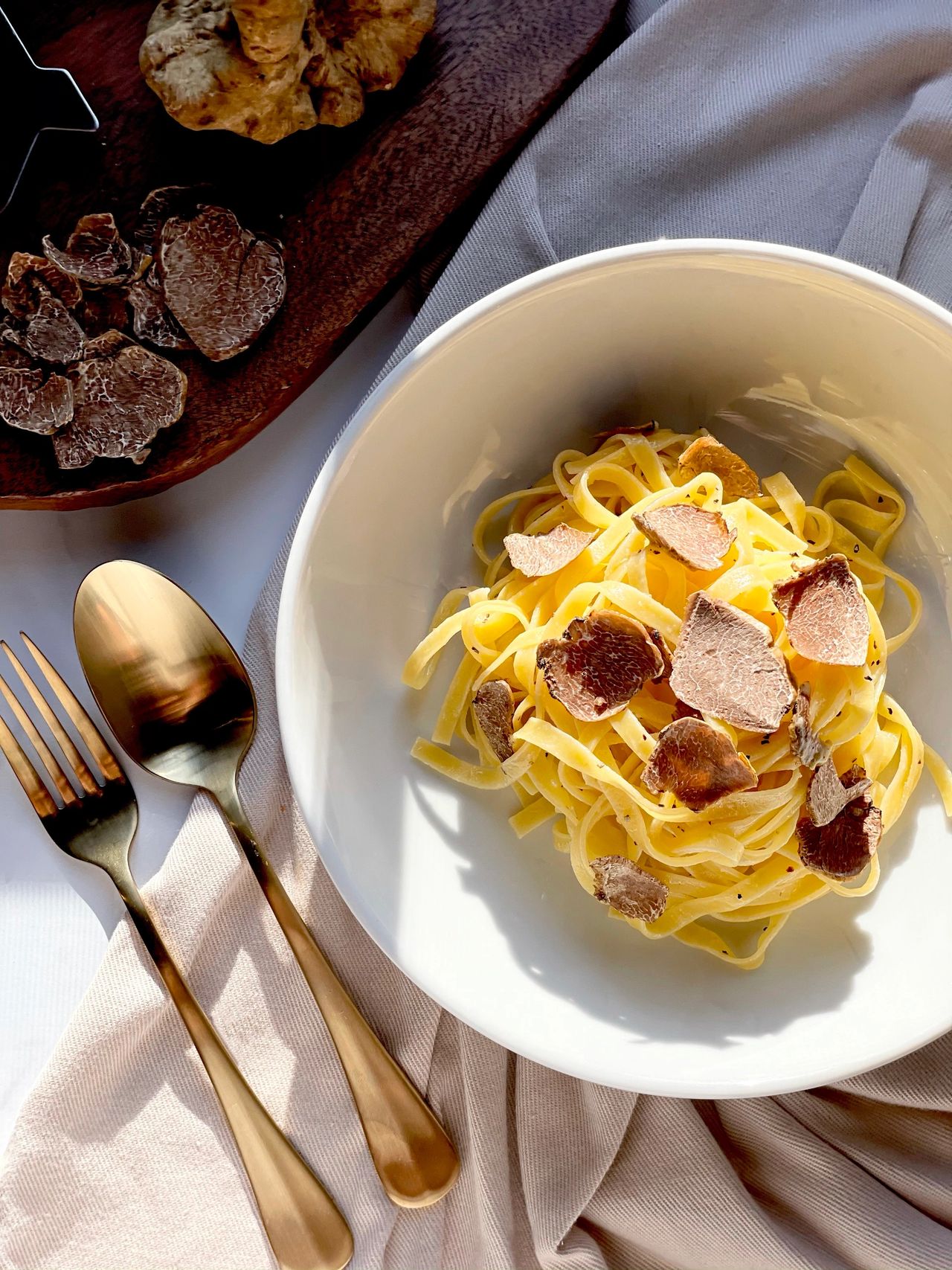 Ingredients
• White Alba Truffle
• 1lb Fresh Tagliatelle Pasta
• 2 Tbsp Plugra European Style Butter (I prefer salted so that I don't have to add any)
• Ground Black Pepper
Instructions
Step 1 – Boil pasta according to directions. Some fresh pastas cook more quickly depending on how they are prepared. This pasta took no more than 3 minutes to cook perfectly al dente. Remove from heat and drain immediately to keep from cooking further.
Step 2 – In your serving bowl add butter. Toss cooked pasta in with butter and completely coated. Sprinkle with pepper.
Step 3 – Serve pasta into individual plates/bowls and shave a generous amount of truffle onto each dish. Do NOT shave truffle into serving dish unless serving immediately. It's always best to shave the truffles onto each individual serving. Plus, it makes the experience so much more special for your guests.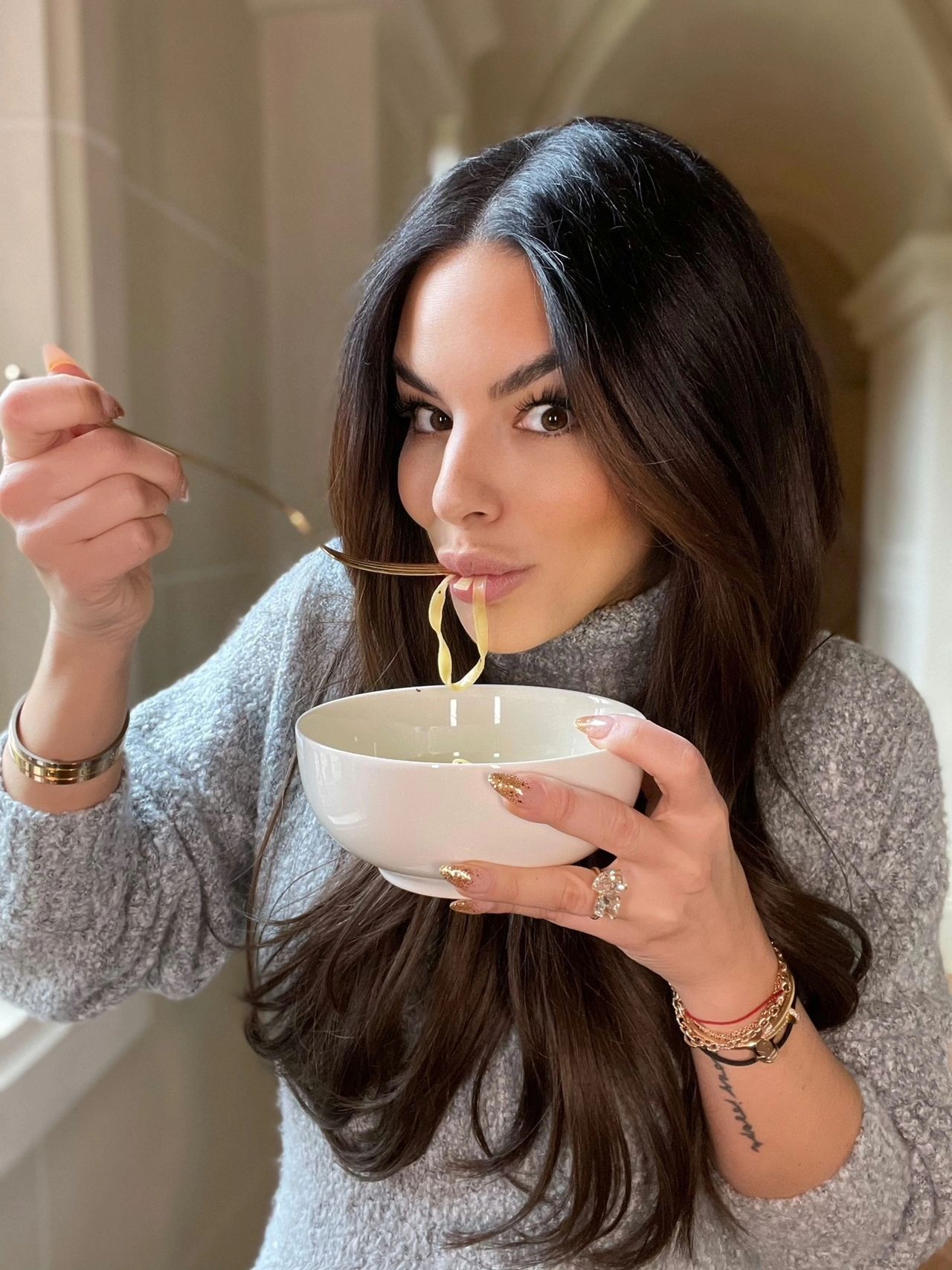 DECADENT TRUFFLE OMELETTE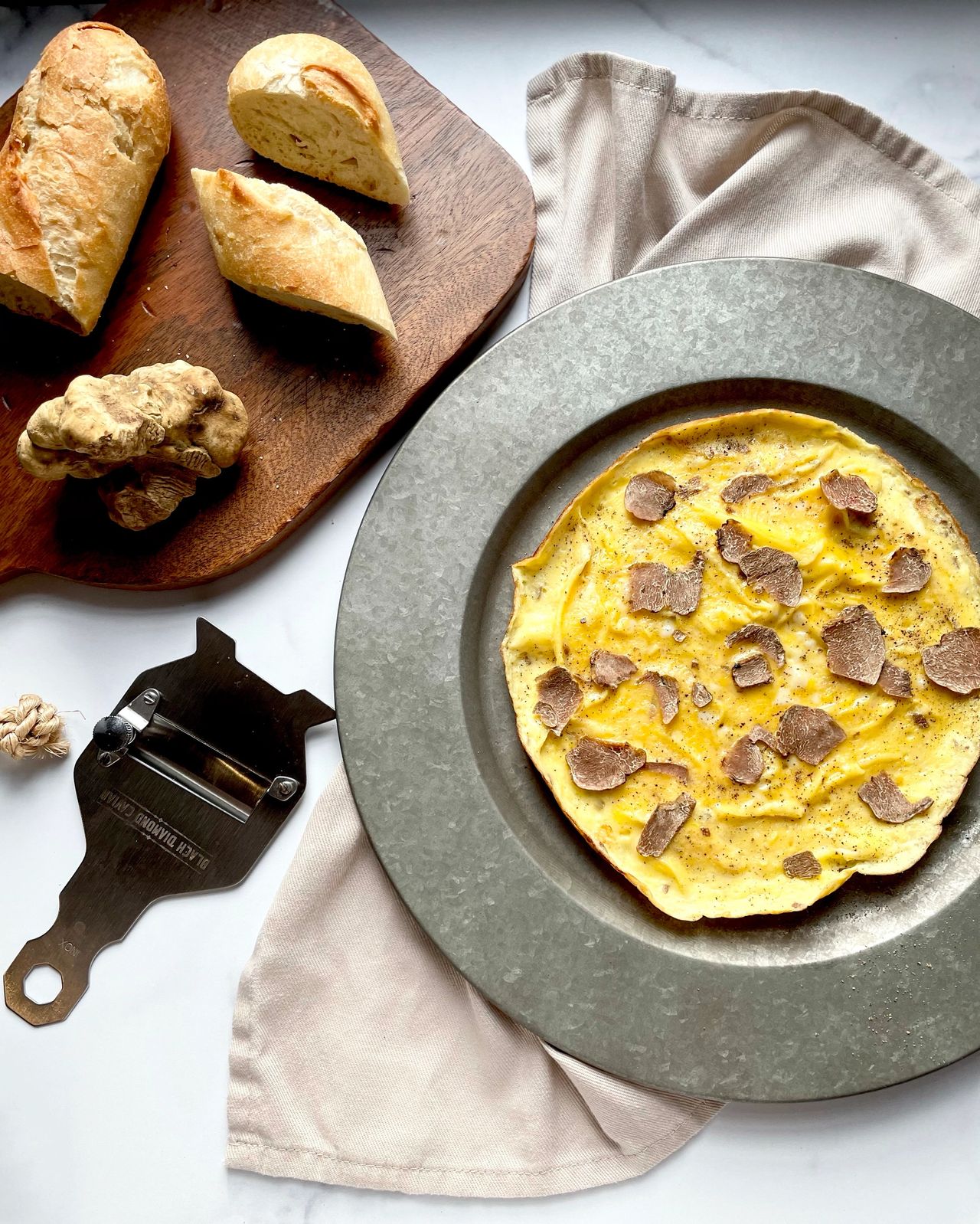 Ingredients
• 2 Eggs
• White Alba Truffle
• 1 Tbsp Softened Mascarpone Cheese
• Salt & Pepper
• Olive Oil
Instructions
Step 1 – Combine eggs and mascarpone in a bowl. Whisk by hand until mascarpone is evenly distributed and egg is fluffy. Add in a little salt.
Step 2 – In an omelette pan heat oil and coat pan. Reduce heat to a medium to low heat. You want to cook the egg slowly. Add egg. As the edges start to cook, pull them back with spatula to allow uncooked egg to take its place. Repeat until little to no liquid remains. Flip and cook for 15 seconds. Remove from heat and transfer to plate.
Step 3 – Sprinkle lightly with salt and pepper. Shave desired amount of truffles on top.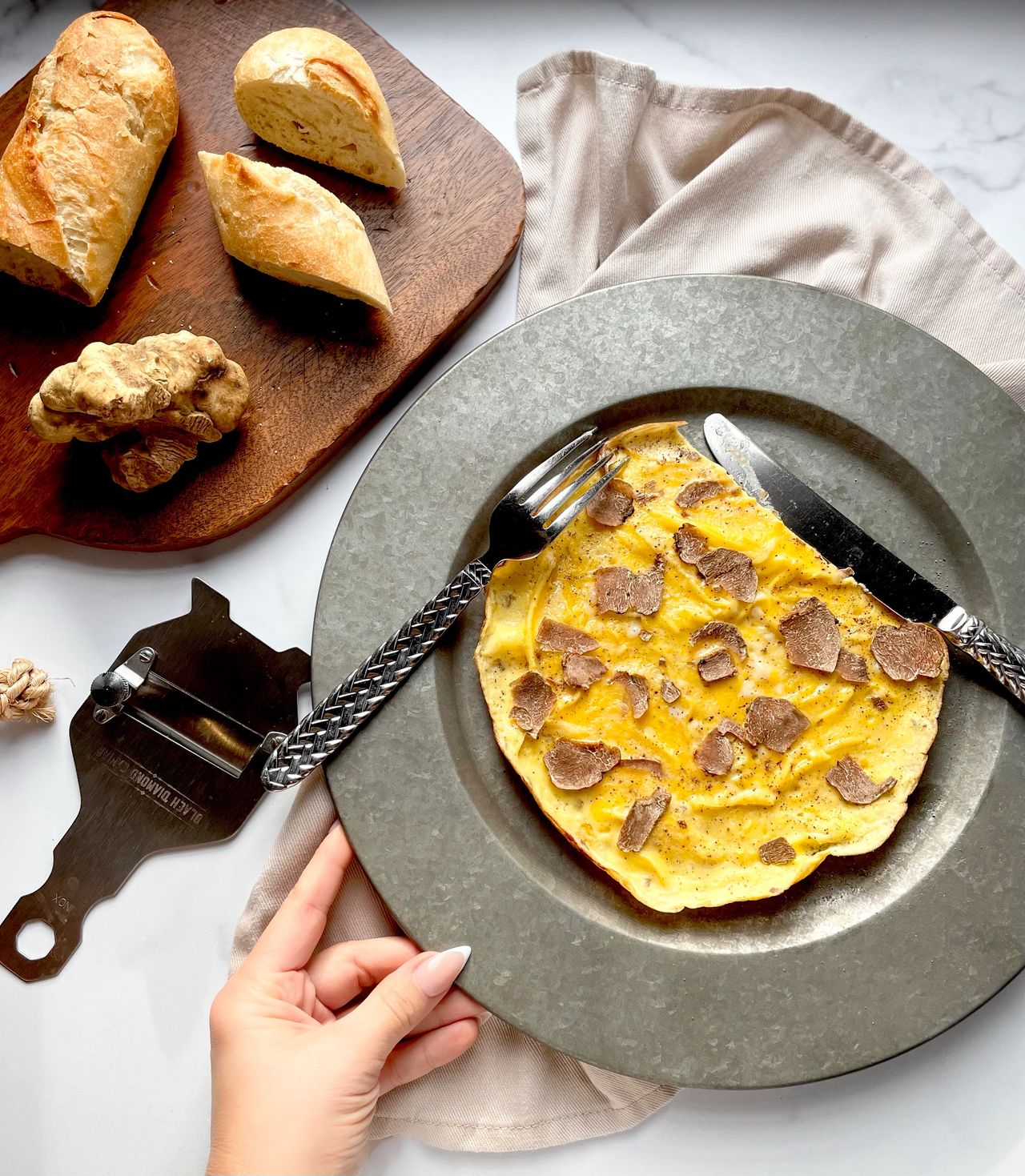 TRUFFLED POLENTA WITH EGGS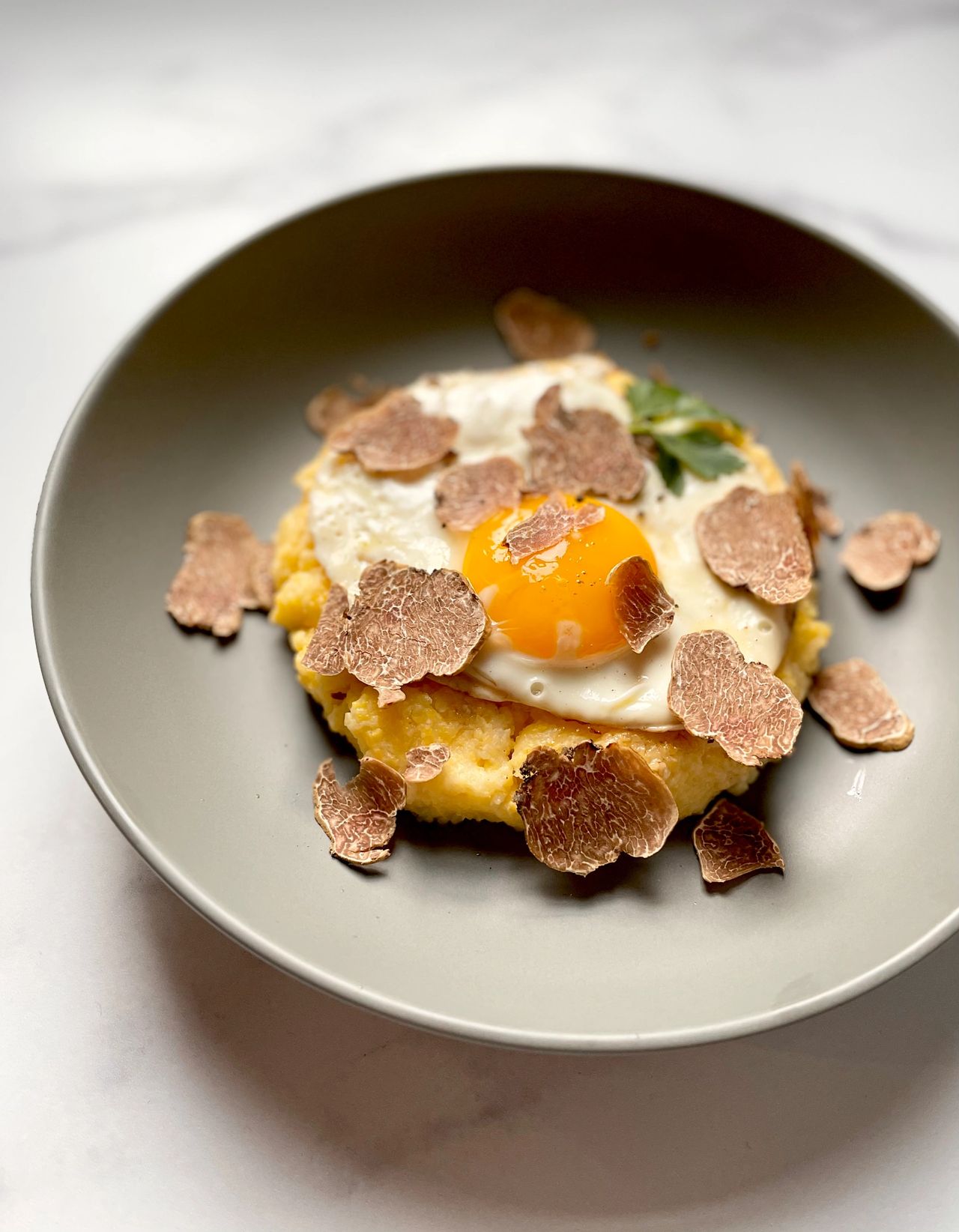 Ingredients
• 1 cup of Instant Polenta (Cooked as per package instructions)
• 3 Tbsp Mascarpone
• 1 Tbsp grated Pecorino Romano cheese
• Pepper
• 3 Eggs
• White Alba Truffles
Instructions
Step 1 – Prepare polenta as per package instructions. Once its ready, add Mascarpone and Romano cheese and stir till melted. Add a dash of pepper. Set aside and keep warm.
Step 2 – Fry each egg sunny side up. Be sure to cook slowly as to not overcook yolk. You want the yolk to  remain intact for serving.
Step 3 – Divide polenta and plate. Arrange in the center of each plate. Sprinkle with a little salt and top each with an egg.
Step 4 – Sprinkle a little salt on each egg and then shave truffles over each plate.